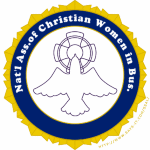 Join the National Association of Christian Women in Business (NACWIB) and receive great benefits.
Membership is open to all who support the values and mission of providing a training and mentoring site for Christian women in business from around the world.
The fee for membership is only $20 a year. This helps to support the website and provides extra membership benefits.
Quarterly business training.
Reviews of business and motivational books.
The NACWIB logo to proudly display on your website.
Join Today
$20

You can pay through PayPal, a secured ordering resource. You do not need a PayPal account to make your payment. Simply follow the instructions to use your credit card to make the payment. This annual payment will be automatically renewed each year as long as you continue the membership. Thank you.